SPR-45VA Stencil Printer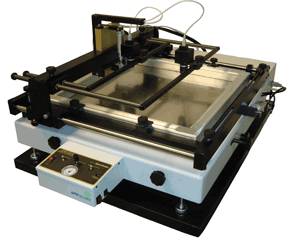 View more photos of this product
Obtain high-quality stencil printing of printed circuit boards with the SPR-45VA with SMTrueTM Vision Assist. The high magnification of the SMTrueTM Vision Assist enables alignment of components down to 12 mil ultra fine pitch for accurate stencil to board alignment the first time, every time.
View a video " Overview of SPR-45VA Vision Assist Stencil Printer Setup "
Read the article "Selecting a stencil printer."
SMTrueTM Vision Assist with single or dual cameras and 10X magnification enabling axial alignment of stencil to board down to 12 mil ultra fine pitch
Pneumatic adjustable power sweep squeegee for automatic printing with single or dual stroke
Power frame lift for higher volume production
Fine X, Y, and Theta adjustments for exact, repeatable stencil to board print alignment
Spring loaded Double Nesting Kit option for quick board changes and printing of single and double sided PCB boards
PCB vacuum hold down (optional)
Ability to print flex circuits with vacuum option
Adjustable frame holder compatible with any tubular or cast framed stencils up to 23" x 23" (584mm x 584mm) outside diameter
Adjustable, reproducible angle-of-attack squeegee adjustment
Dual squeegee holder with independent print force adjustment for clean, convenient application of solder paste
Supplied with urethane and metal squeegees.
| | |
| --- | --- |
| Maximum print area | 16" x 18" (406mm x 457mm) |
| Adjusts to various size frames | Frame holder accepts any size stencil frame up to 23" x 23" (584mm x 584mm) |
| Adjustable dual squeegee pressure/speed | Pneumatic/pneumatic |
| Vacuum hold-down option | Yes |
| Linear squeegee guide | Automatic |
| Adjustable angle of attack | Yes |