DDM Facilities Factory Training Center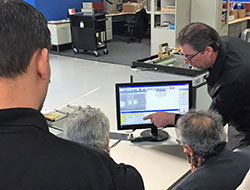 Product Training - is a key factor in buying any piece of equipment. It's important for us, as the manufacturer to understand your application and it's important for you as the buyer to understand how a machine works. Formal product training comes after that.

As the buyer, you also need to be aware of how this product will 'fit' into your process or your location.

As a US manufacturer of SMT and PCB assembly equipment, one of DDM Novastar's competitive advantages is that we can train our customers on our machines right at the factory, or at your facilities. Here, our engineering and production managers are available to demonstrate the unique features and operation techniques of each machine. We also offer on-site training for our DDM equipment - right at your facility.

In addition to online tutorials, videos and owners manuals, customers are welcome to schedule one-on-one training any time. DDM Novastar also offers regular workshops scheduled quarterly.

We also encourage you to look through the Frequently Asked Questions for answers to many common questions our buyers have.