SMT Equipment
Customer Testimonials
"The sales team at DDM Novastar is extremely knowledgeable. We explained our processes and they knew exactly what equipment to recommend."
You cant kill those machines, they just keep on running. And with the variety of PCBs and thru-hole mixed with surface mount components, it is critical to have machines that can handle it.
Our 20-year-old L40 Pick & Place machine still perform realiably. When we need service or parts for it, we call DDM and can count on expert help.
L-NP00 Benchtop Pick & Place System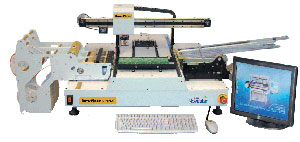 Part of the NovaPlaceTM Series, the L-NP00 is an entry level, low-cost turnkey automatic pick and place system that can be put in production right out of the box. Once a specific PCB is programmed, the machine automatically picks up each component from its designated feeder or tray, centers the part and moves to the placement location, and accurately places the part. The feeders automatically position the next component for pick-up.
Prototyping - Pilot Manufacturing - Low Volume Production
Read the article "Selecting a Pick &Place Machine."
Request a Quote/Get More Info
Provides affordable automatic pick and place operation in a tabletop system
Easy to set up, easy to program and easy to use with WindowsTM based software
CAD editing Software
System includes 4 position nozzle changer for most SMT component sizes
Placement accuracy, up to 0.004"
Placement rates up to 2100 CPH
Cut tape strip holders available in various widths & configurations
Optional convenient SuperStrip™ feeders for short tape strips
| | |
| --- | --- |
| Max board size | 13.5" x 22" (343 x 560mm) |
| Smallest component capability | 0402, 0201 |
| Largest component size | 1.378 |
| Placement accuracy | ±0.004 |
| Max placement rate | 2100 cph |
| Typical verifiable placement rate | 1000-1800 cph |
| Fine pitch capability | 25 mil, 15 mil |
| Max travel area | 22 |
| Overall dimensions | 40 |
| Max no. of feeders (8mm tape) | 64 (individual), 96 (bank) |
| Max no. of feeders with L-GB-12 bank feeders | 96 |
| Tape feeders | 8 mm, 12 mm, 16 mm, 24 mm, 32 mm and 44 mm |
| Vibratory Feeders | loose, tube, stick (Freq. & amplitude control) |
| Matrix Tray Feeders | with Board/Matrix tray holders |
| Centering | Centering Fingers |
| Vision system | Color CCD card camera |
| Dispenser Option | Time & pressure, clean dry air @ 80 psi required |