GF-125 Five Zone Benchtop Reflow Oven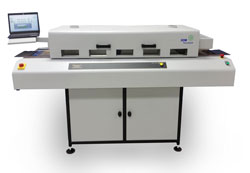 View more photos of this product
Convection reflow oven for PCBs with 5 zones on top and five bottom vertical heating zones, the NEW GF-125 HC/HT is an economic solution for automatic medium volume production runs. Utilizing horizontal convection heating technology, the GF-125 HC/HT provides uniform temperature profiling across the entire PCB board for enhanced SMT process control. With temperatures up to 400°C, the GF-125 horizontal convection reflow oven is capable of lead-free soldering.
The GF-12/120/125 series heating profiles are superior to other ovens in their class. Each of the vertical heating zones is programmable through the controller which stores up to 100 profiles. The oven includes a real-time temperature profiler port. When a thermocouple is attached to the PC board, the actual board level temperature profile is displayed graphically as the board travels through the oven. The conveyor speed, heating elements, cyclonic generators and cooling fans are all programmable so the unit is ideal for high-mix pcb manufacturing runs. The oven also features SPC fault monitoring & reporting, battery backup and a 7 day timer for automatic machine start-up.
Read the article "Selecting a Reflow Oven."
5 vertical heating zones plus 1 cooling zone
Low mass 12" wide stainless steel mesh conveyor
Stainless steel chambers
Viewing window with lighted interior
Two port built-in profiler with unlimited storage
Laptop included for easy & flexible programming control
Real time graphic temperature profiler
Status light tower, edge rail conveyor and nitrogen gas inerting options
Reflow oven is Lead and Lead-free compatible
PLUS, DDM is a true reflow oven manufacturer, customizing systems and still selling parts for 30-year-old units – not just a reseller.
| | |
| --- | --- |
| Max board width | 12" (304 mm) |
| Max board height | 1.375" (35mm) |
| Heating zones | 5 top, 5 bottom |
| Max temperature | 400°C (752°F) |
| Heat tunnel length | 56" (1423 mm) |
| CyclonicsTM (forced air) | Ten (10) |
| Conveyor extensions | Yes |
| Cooling station(s) | One (1) |
| Venting | Two (2) 102mm (4") dia. Flanges |
| Cooling Zone Venting | Two (2) |
| Nitrogen option | Option |
| PC Interface | Standard |
| Overall dimensions (L x W x H) | 84" (2133mm) x 33" (813mm) x 20" (508mm) |