L-NP64S Automated Pick & Place Machine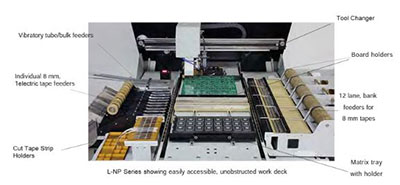 The NovaPlaceTM Series is a complete, low-cost turnkey automatic pick and place system that can be put in production right out of the box. Once a specific PCB is programmed, the machine automatically picks up each component from its designated feeder or tray, centers the part and moves to the placement location, and accurately places the part. The feeders automatically position the next component for pick-up.
Prototyping - Pilot Manufacturing - Low Volume Production
Read the article "Selecting a Pick & Place Machine."
Provides affordable automatic pick and place operation in a tabletop system
Easy to set up, easy to program and easy to use with WindowsTM based software
CAD editing Software
System includes 4 position nozzle changer for most SMT component sizes
Placement accuracy, up to 0.001"
Enhanced Accuracy & Repeatability with Linear Scales & Encoders
Uses new Micro Stepper Technology
Placement rates up to 2100 CPH
Cut tape strip holders available in various widths & configurations
Individual 8, 12, 16, 24, 32 & 44 mm & 12 lane 8mm tape bank feeders available. (Not available on the L-NP00 Model)
Inserts available for stick/tube/loose components in a vibratory feeder for SMT components including discretes, 0402s, 0603s, SOICs, PLCCs, and 20 mil pitch QPPs
Optional convenient SuperStrip™ feeders for short tape strips
| | |
| --- | --- |
| Max board size | 13.5" x 22" (343 x 560mm) |
| Smallest component capability | 0201 Components |
| Largest component size | 1.378" (35mm) square body |
| Placement accuracy | ± 0.001" (0.025mm) |
| Max placement rate | 2100 cph |
| Typical verifiable placement rate | 1000-1800 cph |
| Fine pitch capability | 15 mil |
| Max travel area | 22" (X axis) x 22" (Y axis) (560 x 560mm) |
| Overall dimensions | 40" x 42" x 25" h (1016 x 1067 x 635 mm) |
| Max no. of feeders (8mm tape) | 64 |
| Max no. of feeders with L-GB-12 bank feeders | 96 |
| Tape feeders | 8, 12, 16, 24, 32 & 44 mm (Electrical) |
| Vibratory Feeders | Loose, tube, stick (frequency & amplitude control) |
| Matrix Tray Feeders | With Board/Matrix tray holders |
| Centering | Centering Fingers |
| Vision system | Color CCD card camera |
| Dispenser Option | Time & pressure, clean dry air @ 80 psi required |