DDM Novastar Welcomes New Mechanical Engineer
August 11, 2014 (Philadelphia PA) -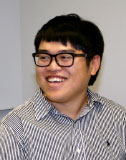 DDM Novastar is pleased to announce that Xiangxingyu Lin ("Lucas") has recently joined our team at DDM's headquarters in King of Prussia, PA, as a Mechanical Engineer. Lucas will play a key role within our engineering department. With more than 5 years of electromechanical integration system design, including control system experience, he will help lead our engineering team in new product development as well as provide engineering support for our existing product line of pick and place machines, stencil printers, reflow ovens and related equipment.
Lucas received his Bachelors of Science in mechanical engineering and automation from Central South University in Changsha, China in 2012. He then moved to the US, where he received his Masters of Science in Mechanical Engineering from Lehigh University in Bethlehem, Pennsylvania. While studying there, he worked at the U.S Department of Energy in the Industrial Assessment Program, and at Lehigh University Bio/Nanomechanics Lab on 3D Printer Design and Development along with prototype assemblies.
We look forward to introducing Lucas to our guests at DDM Novastar's upcoming Technical Training and Open House, September 9 – 12, 2014. If you haven't registered yet, you may do so here by August 22, 2014: http://events.r20.constantcontact.com/register/event?oeidk=a07e9gvomt184032a9b&llr=hks6cdcab
About DDM Novastar, Inc.
With over 24,000 SMT and PCB assembly systems sold, DDM Novastar is a leading USA manufacturer of OEM equipment for the short to medium run production environment. Since our introduction of the first Through Hole Lead-forming and Component Counter products in 1982, DDM Novastar has remained an industry leading innovator. By offering our customers the most reliable, easy-to-operate, easy-to-service, and lowest total cost of ownership "turn-key" SMT OEM systems available today, our commitment is to be your primary source for the most comprehensive range of solutions for prototyping, pilot manufacturing, and low to medium run high mix applications. DDM Novastar's unparalleled array of stencil printers, automated pick and place, reflow and batch ovens, selective and wave solder equipment is backed by superior technical support and can accommodate the most demanding applications with absolute precision. For more information, visit www.ddmnovastar.com or call +1.610.337.3050.